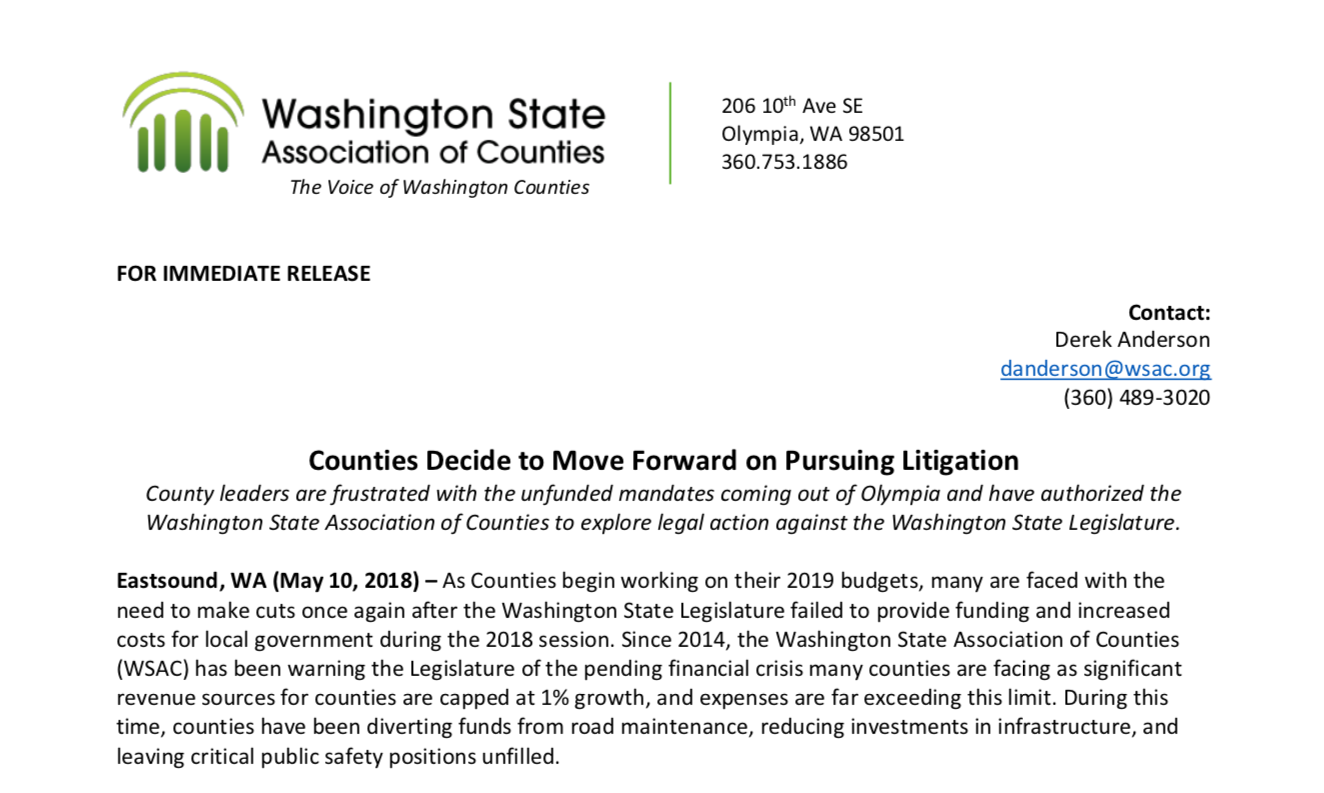 County leaders frustrated with the unfunded mandates and lack of support coming out of Olympia have authorized the Washington State Association of Counties to explore legal action against the State.
Eastsound, WA (May 10, 2018) – As Counties begin working on their 2019 budgets, many are faced with the need to make cuts once again after the Washington State Legislature failed to provide funding and increased costs for local government during the 2018 session. Since 2014, the Washington State Association of Counties (WSAC) has been warning the Governor and the legislature of the pending financial crisis many counties are facing as significant revenue sources for counties are capped at 1% growth, and expenses are far exceeding this limit. During this time, counties have been diverting funds from road maintenance, reducing investments in infrastructure, and leaving critical public safety positions unfilled.
In May of 2017, WSAC members began looking for new ways to help make their case for additional funding from the State, and in November of 2017, the membership approved resources for the Association to begin work on developing a strategic advocacy, communications, and litigation program. Since then, a broad collation of county leaders has been working diligently to create the necessary framework for this program. This past month, the WSAC Board of Directors formally adopted a 2018-19 work plan that includes potential legal action against the State of Washington for their failure to adequately fund counties.
"Counties provide a number of services on behalf of the State, and it is the legislature's obligation that counties be able to provide services to the public. However, the legislature is making that harder and harder for counties to do." WSAC's Executive Director, Eric Johnson continued, "Washington's citizens passed Initiative 601 to hold the legislature accountable and to decrease the number of unfunded mandates passed on to local government. This law has been mostly ignored for years. Someone needs to hold them accountable for their failure to fully fund these essential services."
"This is about health and safety, period." Said Pierce County Councilmember, Derek Young and co-chair of the WSAC Legislative Steering Committee. "Every dollar that I have to spend on laws that are passed down from the legislature without funding comes directly out of my budget for Sheriff deputies, road maintenance and resources to combat important issues like the opioid crisis. We are tired of the Legislature balancing their budget on the backs of counties especially since we all share the same constituency."
WSAC's Legislative Steering Committee also adopted the Associations' 2019 Policy Agenda which focuses on working with the Legislature in the upcoming session to secure funding for trial court indigent defense, support for foundational public health services, and to actively oppose any legislation that will increase costs for local government.
###
Additional Resources:
The approved INTERIM Integrated Strategic Legislative Advocacy, Communication and Legal Activities Program Policy