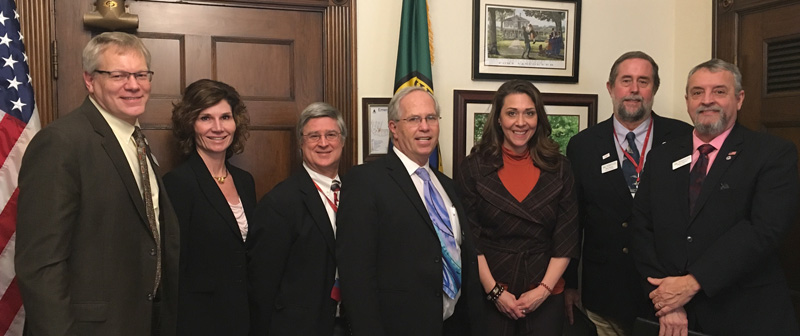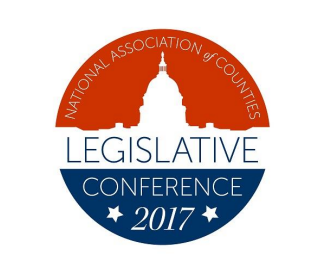 Washington D.C. (Feb. 27, 2017) – WSAC President Obie O'Brien and NACo Board Members Ken Dahlstedt and Blair Brady headed up a delegation of over 30 appointed and elected County Officials from Washington State at the 2017 National Association of Counties (NACo) Legislative Conference in Washington, D.C.  Conference Attendees heard from national leaders on a wide variety of topics that ranged from heady public policy discussions to the intricacies of managing county governmental services.
Conference highlights included:
Steering Committee Meetings – WSAC members participated in a number of NACo Steering Committee meetings to discuss topics such as election administration, increasing active forest management to increase forest health, transportation and infrastructure financing and funding, eliminating tax exempt municipal bonds as part of federal tax reform,  Follow this link if you would like to learn more about  joining an NACo Steering Committee.
The NACo Board of Directors adopted a series of interim policy resolutions brought forward by NACo Steering Committees.
Just like in Washington State, the opioid epidemic is gripping and ripping through many counties throughout the nation.  NACo held a "Town Hall" breakout session on the ongoing plague affecting our communities and the sharing of information to intervene in this public health crisis. Click here for more information.
One major thrust of the conference was the importance of civility in communities and government. County leaders, very much aware of the bickering, political division, and lack of civility at the federal level want to assure we have respective, productive, and problem solving conversations at the county and community level.  One session brought county leaders together to speak of how local governments have the opportunity to encourage respect within their communities by bringing people together to discuss shared concerns: At the closing general session, NACo President Brian Desloge who has pledged throughout his NACo leadership term to focus on "advancing civility in political dialogue" spoke about Village Square and it's mission to help communities have civil dialogues on tough and difficult community issues.
The Western Interstate Region (WIR) Board of Directors awarded the 2019 WIR Annual Conference to Spokane County.  Congratulations to Spokane County and we all look forward to helping you host a great conference in two years!
WSAC/WACO Members Meet with Congressional Delegation – County Officials attending the NACo 2017 Annual Legislative Conference also met with members of the Washington State Congressional Delegation to share our legislative priorities including:
Marketplace Fairness Act – destination based sales tax collection on internet sales. It is estimated that Washington's 39 counties lose over $80 million a biennium to uncollected sales tax on internet based sales.
Funding for Secure Rural Schools (SRS) program – 20 counties in Washington State receive over $17 million to compensate in loss revenue from federal forest policies.  WSAC members also articulated the need for the Federal Government to provide increased active management of our federal forests in Washington State to increase wood fiber production, sustain forest health, and limit catastrophic forest fires.
Full funding of federal Payment in lieu of Taxes Program (PILT) – that provides nearly $20 million annually to support county programs and services in 37 counties in Washington State.
Tax-Exempt Municipal Bonds – there are proposals swirling around to eliminate tax exempt municipal bonds as a part of federal tax reform. A NACo priority, WSAC contacted delegation members opposing the elimination of Tax Exempt Municipal Bonds, and how hard this would hit jurisdictions – and their taxpayers – that are borrowing funds for critical public projects.