Communities In Crisis Infographic
Counties are responsible for law enforcement, criminal justice, and public safety services. But, for the last decade, Washington counties have faced a 1% cap on the annual revenue increases they can receive.
Get the Information Sheet
Download and print more information regarding the 1% property tax cap as provided by the Washington State Association of Counties. This informational document goes into more depth on the issue and what it means for counties.
Interactive County & City Graph
Washington State Association of Counties has created an interactive map that allows you to see how property taxes would affect individual counties within Washington State.
Counties are Being Left Behind
The State reliance on Sales & Use tax, and other revenue streams, is
resulting in economic recovery for the state while counties are left behind.
For comparison the State of Washington:
Receives revenue from 36 separate taxes
Relies on property tax for ~10% of its General Fund revenue
Generates revenue through the Retail Sales & Use Tax, which grows annually at an average rate of approximately 6%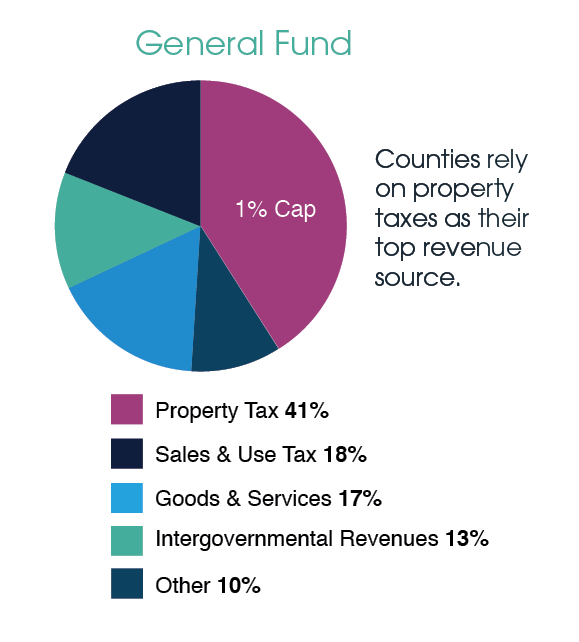 Impacts
Counties across the state have experienced:
Reduction in the number of deputies on the road
Cuts to law enforcement training
Delayed public safety response times & justice proceedings
Caps on inmates booked into county jails
Overcrowding in jails
Increased diversion from road funds for law enforcement
Dangerous road and bridge conditions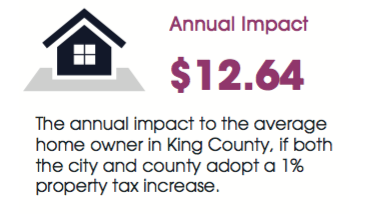 A New Approach is Needed
Lawmakers need to replace the 1% property tax cap with a cap to a factor of inflation plus the rate of population growth – the actual factors that drive county costs. Locally accountable officials will then be able to publicly decide whether or not to utilize the new cap.
Newspaper
Cowlitz County: House bill could allow counties to factor inflation, population into property taxes. The Daily News
King County: State House bill would stop the bleeding in king county budget. Seattle Weekly
Pierce County: Could proposed schools fix help kill state's 1% property tax cap? Counties hope so. The News Tribune
Snohomish County: Legislature Considers Property Tax Increase to Fund Schools The Everett Herald
Snohomish County: Bipartisan alliance of lawmakers wants to remove cap on property tax increases. The Bothell Reporter
Thurston County: Could proposed schools fix help kill state's 1 percent property tax cap? Counties hope so. The Olympian