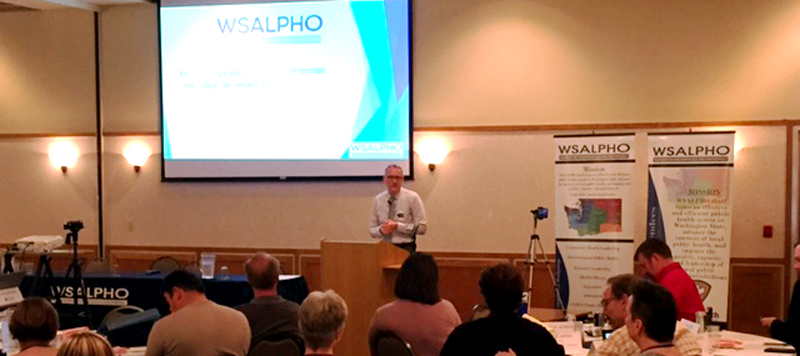 Chelan, WA – The Washington State Association of Local Public Health Officials (WSALPHO) recently held its annual conference at the Campbell's Resort in beautiful Chelan from June 5th-7th.  Over 100 local and state public health professionals participated in the conference, representing 32 of Washington's local health jurisdictions and the State Department of Health.
The conference began with a robust panel conversation on Washington's current opioid epidemic.  Panelists included State Health Officer Kathy Lofy, Seattle-King County Health Officer Dr. Jeff Duchin, and Dr. Charissa Fotinos from the state Health Care Authority.  Each presented their agency's successes in implementing multi-disciplinary strategies in combatting addiction, prescribing practices, and prevention.
Highlights from the panel and following discussion included:
Challenges in combatting stereotypes of addiction and misinformation at the local level
Current legislation to enhance provider's ability to monitor patient opiate use and identify substance use disorder more quickly
Creating statewide systems for medical providers and local public health in order to monitor prescribing practices, overdose injuries, and death
Connecting opiate substance use with all other substance use disorders
The conference's keynote speaker, Department of Health Secretary John Wiesman followed the panel.  Secretary Wiesman discussed his vision for a modern local public health system, current challenges in funding and staff shortfalls, and his commitment to strengthening local public health through foundational public health services (FPHS).  The day ended with a welcome reception for WSALPHO's new managing director, Jaime Bodden.
Day two of the conference included meetings and workgroups of WSALPHO's committees.  These workgroups are vital in moving WSALPHO's mission forward and work on such wide-ranging health issues including; local public health leadership, workforce development, building resilience in children and families, healthcare reform, and environmental health.
In the afternoon, WSALPHO's lobbyists presented a summary of the current legislative session, with particular emphasis on the state budget and FPHS policy bills.  WSALPHO, in partnership with the DOH, requested an additional budget allocation of $60 million dollars to implement FPHS services across the state.  The Governor's budget included $23.8 million, the House budget $40 million, and the Senate budget left FPHS out entirely.  While the special session continues, WSALPHO remains hopeful and will continue to advocate for increased public health funding.
WSALPHO and its executive committee were thrilled by the turnout.  While much work was accomplished in moving the mission of WSALPHO forward, there is still much to do in 2017.  Goals for the remainder of the year include more regional and local engagement, continued partnership with the Department of Health in solidifying FPHS work plans, improved organizational efficiency and capacity.
Pictures from the conference can be seen below.