This week we are celebrating the 50th Anniversary of the Municipal Clerk's Week with spotlights from our hardworking and amazing county clerks from across the state of Washington. See all the county clerk spotlights here!
[boc_spacing height="15px"]
We are very excited for our first spotlight on Barbara "Barb" Vasquez the Clerk of the Board for Grant County! She has been Clerk of the Board for almost 15 years. She is the youngest in the office, but the longest standing employee in the office. She has 2 wonderful teenagers aged 19 and 17. She is a baseball mom. She is an avid Game of Thrones watcher and loves listening to pop country music.
[boc_spacing height="15px"]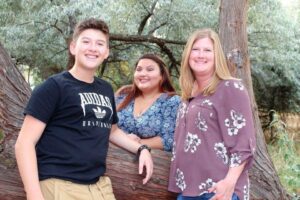 [boc_spacing height="15px"]
Barb's journey to becoming a clerk was a complete fluke.  She was working as a finance manager for a computer company that was going out of business so she had to find a new job. A temp agency placed her at the county. Barb said, "I showed up and started working there and thought, well crap! I might as well apply for the actual job."  She did apply and they hired her as Clerk of the Board in 2004. Barb says, "I can honestly say that I DO love my job! This was my calling, I believe. I love my bosses and all of the folks here at the courthouse. And I truly enjoy helping the public."
[boc_spacing height="15px"]
Barb likes working with the public and the others who work there including the elected officials. "I've learned so much here. One minute I'm meeting with the Treasurer, then the Sheriff and then the Auditor. The variety makes it worthwhile." She said the biggest challenge was learning all the acronyms. "Who would have known that CRAB stands for County Road Administration Board?"
[boc_spacing height="15px"]
Grant County Commissioner Tom Taylor says:

[boc_spacing height="15px"]

"Barb Vasquez is the Clerk of the Board of County Commissioners for Grant County.  Her presence is felt by all and I mean this in a good way. She always has a smile on her face (sometimes I wonder what she's thinking) and is extremely pleasant to everyone she interacts with.

[boc_spacing height="15px"]

A  few days before my first day in office, she laid out the ground rules in true Barb fashion. I was wearing a suit for my swearing in and she was quick to ask 'I hope you don't wear that all the time.' Implying that the Grant County BOCC office is no-nonsense but relaxed. I haven't worn a suit since.

[boc_spacing height="15px"]

She has many responsibilities, but the most important to me is my schedule. I learned early on that if you got on Barb's bad side (she doesn't have one), she'll have you scheduled for a 4:00 meeting on Friday. She is an integral part of our office and I can't begin to tell you how much she is valued and appreciated. We love our Barb (Joe Dirt)!"
[boc_spacing height="15px"]
Barb went to the Northwest Clerks Institute from 2007 to 2009 and met two of her best friends, Melissa Collins (Snohomish PUD) and Dee Roberts (City of South Bend). There they became fast friends and you'll often see the three amigas together at conferences or photos on Facebook when they travel together to Las Vegas. The details of which cannot be told, she quipped.  Barbara said. "Years later we are the best of friends and I can't be more thankful for that." The three clerks continue to connect through conferences and Barb said their friendship is pretty amazing.
[boc_spacing height="15px"]
Barb has also just finished serving a two-year term as President of the Washington Association of County Commissioner/Council Clerks. You can learn more about that organization here.  Last year she was a featured Clerk for WMCA. You can also read that spotlight here.
[boc_spacing height="15px"]
Barb says she loves Grant County because of the slower paced way of life. She loves seeing the flat land that is being farmed and the yellow and tumbleweeds that go on forever then all the sudden stop at green fields! She loves the smell of farming, cut grass wheat mint potatoes. Cows, goats, pigs, small communities. She lives in Moses Lake and commutes to Ephrata. It's a 20 min drive on the Highway and its smooth sailing! She loves that there is no bumper to bumper traffic.