This week we are celebrating the 50th Anniversary of the Municipal Clerk's Week with spotlights from our hardworking and amazing county clerks from across the state of Washington. See all of our county clerk spotlights!
For our second Clerk spotlight, we travel all the way across the state to check in with Debbie Thompson from Island County. Debbie began her career with Island County in 1989 when the Island County Prosecuting Attorney hired her as a legal assistant for the civil division.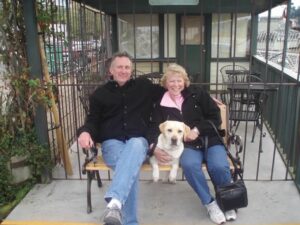 Debbie brought a wealth of experience to the county working with a multi-office San Diego law firm, her hope of securing a job with the County's legal team and building a life on Whidbey became a reality.
In 2007 she joined the Board of Island County Commissioners as their Office Administrator and Deputy Clerk, becoming Clerk of the Board several years later. As if she doesn't already have enough to do she is also currently serving as President of the WA Association of County Commissioners/Council Clerks.
Debbie Thompson is a consummate professional who supports the Island County Board of Commissioners with such skill and grace. Debbie holds herself to high standards and expects the best from others. Her infectious smile and good humor make the work fun as well. (It is also nice that she makes delicious brownies for special occasions.) Debbie Thompson is the best!

– Island County Commissioner Helen Price Johnson
Along with her husband John and "daughter" Sophie (their pup), she delights in all that island life has to offer. Debbie says this about Island County, "we are blessed for the opportunity to work and live in Island County … such a beautiful, welcoming, and giving to the community."
This November Debbie will celebrate 30 years of service with Island County.
"Debbie bring an effervescent joy to the challenging work of county government.  She always has a smile, a helpful idea and a supportive attitude for the public and especially for me, the newest commissioner to join our Board."

-Island County Commissioner Janet St. Clair