This week we are celebrating the 50th Anniversary of the Municipal Clerk's Week with spotlights from our hardworking and amazing county clerks from across the state of Washington. You can see all our county clerk spotlights here!
For our third clerk spotlight, we look at the center of Washington state, to Kittitas County's Clerk of the Board of the County Commissioners, Julie Kjorsvik who is in her 25th year with the county!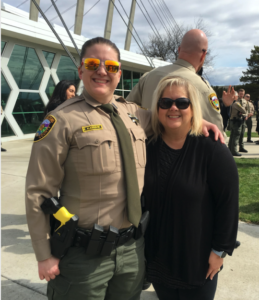 Julie is originally from the west side of the state but moved to the beautiful City of Ellensburg in 1994. Her husband of 28 years is an Assistant Principal at a local Middle School and they have 3 children. Her oldest daughter is 26 and is the only female Corrections Officer for Kittitas County (pictured above); their son is 21 and attends Central Washington University, and their youngest daughter is 15 and a sophomore in high school.
Kittitas County Commissioner Laura Osiadacz says:

Julie has served 24 years and is the backbone of the Commissioner's office. One of the things I love most about Julie is that no matter how crazy things get she still has a big, warm smile.
The things that Julie enjoys are traveling, fly fishing, attending sporting events, and volunteering for community events. They have also hosted 9 high school international exchange students from all over the world – they all stay one year in Julie's home.
In her position, she has been able to play an important role as the changes and growth have happened to the County over the past 25 years.
Kittitas County Commissioner Cory Wright says:

Since I was appointed as a commissioner last year, Julie has constantly helped me not only learn the ropes also to keep me from making dumb mistakes.  There is no job description for this position, but thanks to clerks like Julie Kjorsvik rookies like me can understand where to start on the right path.  I am proud to say that I learn something new every day from Julie, and any success I earn in this seat will be a credit to her teaching and leadership.
Julie says, "there are so many reasons why I love working for Kittitas County. I've been blessed to have had so many wonderful people come into my life over the past 25 years due to my job, whether it's a Commissioner or a member of the public who've become a member of my 'family'.I believe serving the public is truly an honor. There is one thing for certain when working for County government, it's always changing and no day is ever the same."
Julie also loves her county! She says, "the best part of Kittitas County is also being in the center of the state and having access to all of the recreational opportunities year-round in our backyard. People come to vacation where I live and can enjoy each and every day."
Paul Jewell – Former Kittitas County Commissioner says:

As a county commissioner, you spend a lot of time with the Clerks of the Board. You really need someone who is knowledgeable, professional, and willing to work in some unusual circumstances. You also need someone who appreciates the role of the Board and understands what the Board trying to accomplish. Julie is all of those things.

When I was brand new, she was patient with me and my ambitions and gracefully helped me understand and navigate the process of county government. As a seasoned Commissioner several years later, I always knew and appreciated that Julie was there to support our efforts and to make sure the details were taken care.

If I requested something of Julie I never had to worry if it would be done. Without Julie and her staff, our Board never would have been able to accomplish everything we did. I'm proud to know her, to have worked with her, and to have had her there to support me for ten years. I'm also very proud and honored to call her my friend.