On April 9th, local solid waste managers, environmental public health directors, and county commissioners came to the capital to advocate for local solid waste financial assistance (LSWFA). Used for the development, implementation, and enforcement of solid waste management plans (including recycling and hazardous materials), LSWFA funding is distributed statewide to all counties.
[boc_spacing height="15px"]
The funding source for LSWFA has been the Model Toxics Control Account (MTCA). Traditionally, MTCA funds this and similar programs through the capital budget. However, over the last several years MTCA has become over-appropriated to fund beyond its original purpose and unstable due to its funding mechanism. Solid waste programs and LSWFA have suffered with over a 60% reduction in funding.
[boc_spacing height="15px"]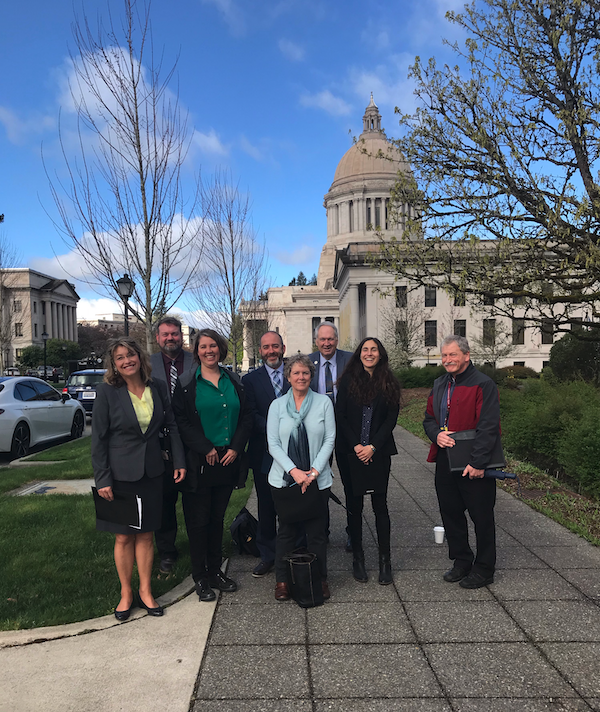 Why is this funding important?
[boc_spacing height="15px"]
Without funding like LSWFA, disposal costs for the public increases. This can lead to more illegal dumping in areas like forests or along river corridors. Hazardous waste facilities close or collection events are limited, resulting in stockpiling of hazardous materials like oil, paint, and tires. There is also the potential for dangerous public health risks to go undetected.
[boc_spacing height="15px"]
Ground-water contamination, vector control, and clandestine drug manufacturing are all enforced with this funding. Further, without full and stable funding, local programs cannot adopt strategies that address emerging issues in solid waste management such as a growing population, recycling technologies and markets, and food waste. In short, LSWFA is a vital resource that keeps our environments and public healthy and safe.
[boc_spacing height="15px"]
2019-2021 Budgets
WSAC was excited to see that LSWFA was included in the Governor's, House, and Senate budgets. Our preference is the Senate budget ($28.4 million) because it includes full restoration of LSWFA funding from 2011 – before MTCA became over-appropriated. The $28.4 million will ensure that our local programs have the resources available to help them be more proactive and comprehensive in meeting the demand for solid waste services.
[boc_spacing height="15px"]
SB 5993
In addition to LSWFA funding, our county folk also advocated in support of SB 5993 (Frockt) which seeks to reform MTCA. Key highlights of the bill and why counties like this bill include:
Reduces the volatility of MTCA by adopting a volume-based tax rather than a value based tax.
Improves funding for toxic clean-up and local programs by an estimated $225 million/biennium.
Resolves the over-appropriations of MTCA by ending diversions for unrelated programs.
Enhances transparency and accountability of MTCA
Creates jobs for and improves our environment.
[boc_spacing height="15px"]
WSAC supports $28.4 million for Local Solid Waste Financial Assistance and SB 5993.
[boc_spacing height="15px"]
Additional Resources